What a horrendous 90 minutes of football that was! To put things into some kind of perspective, I was watching the Villa game sat on an exercise ball, constantly bouncing, three yards away from the TV with the Watford and Bournemouth games on two smaller screens – and I hated every minute of it.
Speaking to friends and family, I likened the feelings I had watching the game to a moment back in Tim Sherwood's tenure as Villa boss.
In March 2015, Villa were flirting with relegation and were drawing 1-1 with local 'rivals' West Brom. In a moment of madness for then Baggies keeper Ben Foster, he brought down Matt Lowton in the last minute of the game. Christian Benteke stepped up to take the penalty and scored, giving Sherwood his first taste of victory as Villa manager. He would go on to save us from relegation that season.
Now, back to the point. I had exactly the same feeling for the entire game against West Ham, as I did for that tiny moment before Benteke stepped up to score the penalty back in 2015.
Gut-wrenching nerves, an inability to stay still, watching through my hands before utter jubilation and relief! To be taken on such an emotional rollercoaster in just 90 minutes begs the question – how does anybody not like football?
The Game
The game itself was as nervy as you would expect a game of this magnitude to be, from a Villa perspective. West Ham, with nothing to play for, looked just as off the pace as we did, which was a blessing for an understandably shaky Villa side.
The Hammers, though, almost got off to a perfect start. In the 11th minute, a long ball forward troubled the previously excellent Ezri Konsa, which allowed the in-form Michail Antonio to go through on goal. However, he rushed his shot and sliced it wide of the on-rushing Pepe Reina's goal.
The nail-biting tension turned up a notch. A moment of relief – for now!
Villa's talisman, Jack Grealish, then could have put Villa ahead just before half-time, after a good team move. Hourihane's flick put Grealish into a great shooting position but he didn't connect properly and hit his first time shot tamely into Fabianski's arms.
At half-time, I thought we would live to rue that miss, as it was such a good chance. Especially with Bournemouth looking good against the frankly awful Everton.
However, Grealish more than made up for this missed opportunity.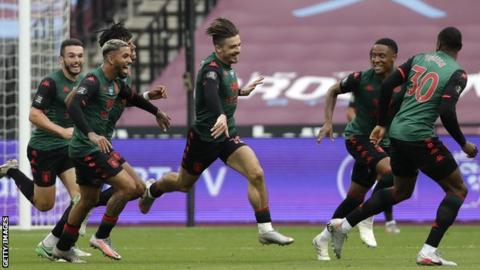 In the latter stages of the game, some great hold-up play by substitute Keinan Davis got the Villans into a good position. McGinn found Grealish on the edge of the box and he sized up Ryan Fredericks before putting the ball onto his left-foot and rifling the ball past the hapless West Ham keeper.
Complete and utter joy and pandemonium in Villa living rooms across the country – heartbreak in Bournemouth and Watford supporting households.
Confession time – I actually missed the goal. I had literally just gone to the toilet and my wife shouted up that Grealish had scored. I didn't believe her at first and ran downstairs (after flushing and washing my hands of course) to see the replays. That's when I really celebrated, which set our excitable dog off and had the both of us jumping around the living room.
The craziness and joy only lasted for just over a minute though, as a heavily deflected Yarmolenko strike wrong-footed Reina and ended up in the Villa goal.
The tension returned but this time was ramped up. It turned into a feeling of sickness and a dreaded sense of what might be about to come.
But it never came!
The minutes ticked on and Villa kept hold of the ball well, keeping it deep inside West Ham territory.
Then, the final whistle. Could we celebrate? 'Not yet' cried Villa manager Dean Smith. 'Not yet' I said to my dog, who didn't understand what the hell I was talking about. 'Not yet' because you never know what is going to happen with Arsenal's dodgy defence.
Arsenal 3-2 Watford – it was looking good but seeing Watford consistently pepper the Gunners' goal did nothing to appease the restlessness.
Then came the final whistle, which meant just one thing… PANDEMONIUM!
The Celebrations
The Villa players, manager and entire staff gathered in a huddle to listen to the outcome of the Watford game. If Watford had made a remarkable comeback, then this wonderfully tight-knit group would have been there to console one another.
As it was, Watford had lost and the all important point at the London Stadium meant that Villa were staying in the Premier League. The heroic squad began jumping for joy, as the relief, happiness and joy was clear for all to see.
The celebrations then made their way to the dressing room and to Villa-supporting living rooms around the country, where alcohol was consumed, songs were being danced to and Sweet Caroline was being played at full blast, over and over again.
This was a mixture of jubilation and relief that I hadn't felt before, not even in the Playoff Final last year.
Against all the odds, Villa had remained a Premier League club.
So, a message to all of the playing and non-playing staff at Aston Villa. Congratulations on achieving the ultimate aim this season – survival! You never gave up, you gave everything to the cause and you have come out the other side as heroic Villans. And, as for Dean Smith, you have done a terrific job for your boyhood club and its fans. You have taken this club to the next level and laid the foundations for future successes. More importantly, your Dad would be immensely and immeasurably proud.
So, Villa fans, enjoy your celebrations because we are staying in the Premier League!
UTV!
By Daniel Horton